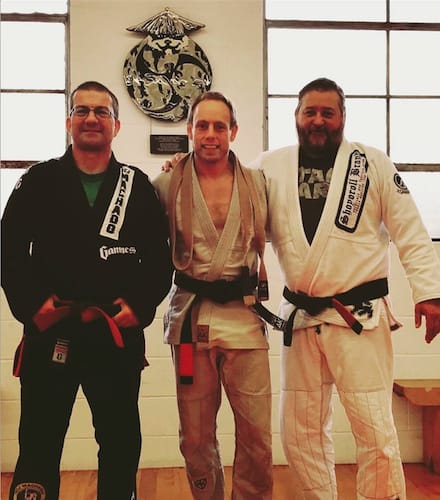 Pete Jeffrey
Pete is the co-owner of Tri-force MMA LLC and a highly motivated mixed martial arts trainer with 12+ years of experience. Pete is a Brazilian Jiu-Jitsu black belt under Tim Burrill (TBBJJ)/Carlos Machado (RCJ Machado Jiu-Jitsu) and was an active professional mixed martial artist from 2005-2012. He currently coaches many of New England's top professional and amateur prospects.
Pete had the honor of being named the 2012 CES MMA Coach of the Year. He also holds the position of Head Coach of Brown University's Mixed Martial Arts Team (GAMMA) and is a Level 2 Certified Training for Warriors (TFW) Trainer. Always a student of the game, Pete takes great pride in helping his students to meet their goals as mixed martial artists. He enjoys collaborating with students to develop their personal strengths while adding unique skills to all aspects of their game.
Pete holds a Bachelor's of Arts in Music, which he uniquely incorporates into his curriculum by using rhythm, tempo, and beat as core concepts for martial arts. He thoroughly enjoys finding new, innovative ways of teaching MMA to anyone looking to progress. He also utilizes the lessons learned from his experience during the early years of MMA to ensure his students employ cerebral and skillful methods of training. He is a driving advocate of intelligent training and preventing injuries for his athletes.
Pete is also a dedicated father and loving husband. Both his daughter and wife train at Tri-Force MMA alongside every other member. Outside of the gym he enjoys playing drums for the band Kyoshii, cookouts with friends and family, and anything that can spark an intelligent conversation.